Last Updated on July 28, 2023 by Jorian
Experiencing a blue light that first flashes then holds steady on your Nespresso Vertuo Next or Pop while brewing coffee?
This may cause confusion and unexpected changes in your brew. Read on as we unravel the mystery behind this and share tips to get your coffee brewing just right.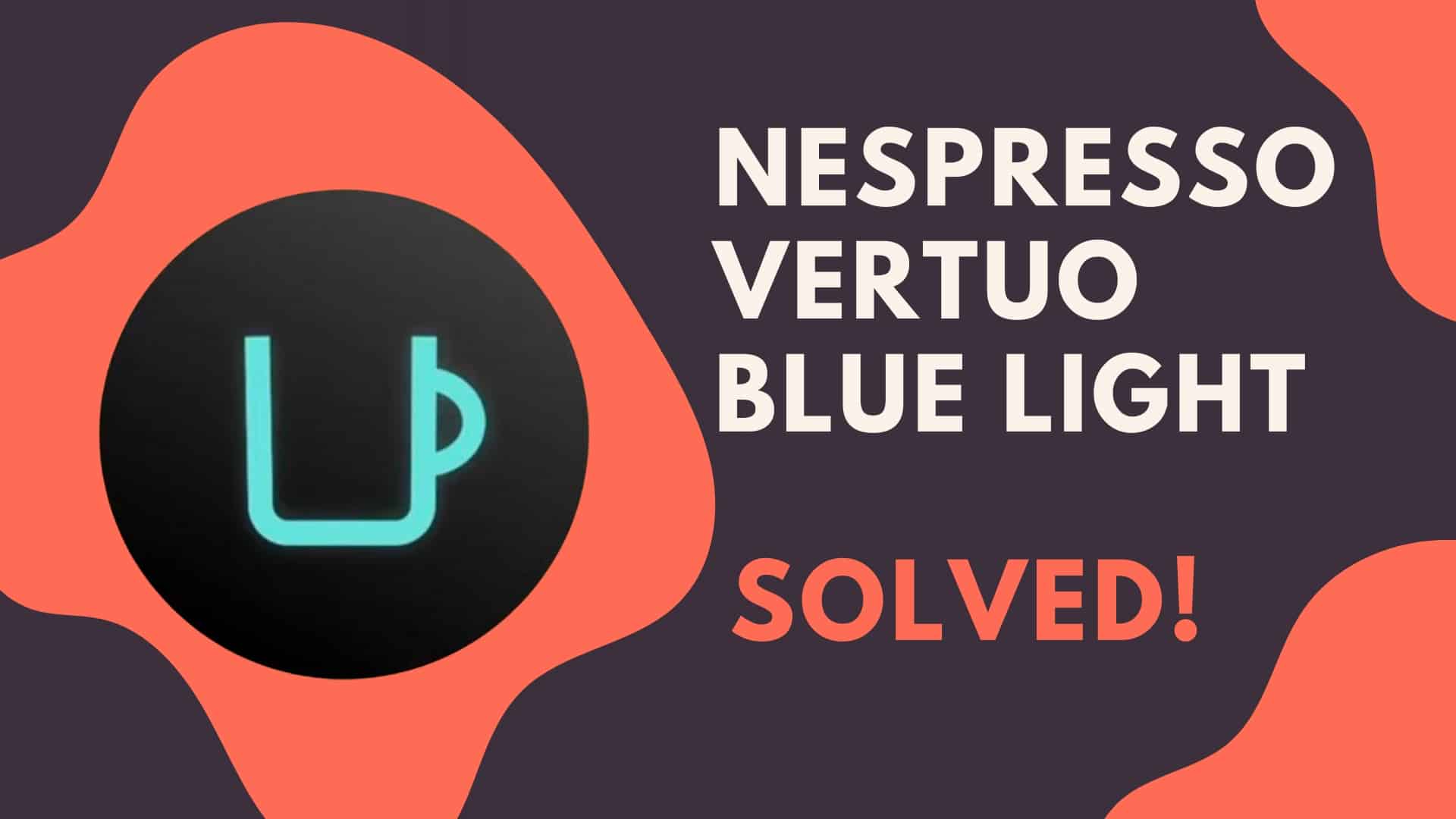 How To Fix A Blue Light On A Nespresso Vertuo Machine?
If your Nespresso Vertuo Next machine has a blue light (which can sometimes look purple or teal), it likely means that you've quickly pressed the button two times in one second. This action switches the machine to a setting known as the 'Concentrated Extraction' mode.
The Nespresso Vertuo Pop also has this function.
In this mode, your Nespresso brews a double espresso, no matter which capsule you put in the machine. This could explain why your pods are brewing a coffee that is either too small or too large.
The indicator light on your machine could also change color to light green or purple when it's in the Concentrated Extraction mode. A simple solution would be to:
Turn off and unplug your Nespresso machine.
Plug it back in and turn it on again.
Put a capsule in the machine.
Press the button once to brew a normal cup.
For future brews be mindful to only press the button once instead of twice, as it can become quite annoying to turn off your machine every time.
This function is best used with capsules meant for mug-sized servings. It brews a double espresso, which is perfect for making drinks like Latte Macchiato and Cappuccino. This is why it's called the 'Barista Recipes' feature.
The Blue Light Won't Turn Off On My Nespresso Machine
If the blue light won't go off on your Nespresso Vertuo Next or Pop. There are three things you could try to fix it:
The First Thing You Should Try
The first thing you should try is to contact Nespresso Customer Support. Let them know your Nespresso Vertuo is flashing a blue light that won't go off. If your machine is still under warranty, they usually replace it with a new one.
But, if your warranty has ended, they will likely give you a big discount on a new machine instead.
Reset Your Nespresso Vertuo Next
The next thing you could try to fix the blue light issue on your Nespresso Vertuo is to do a reset.
Try the following steps:
Lift the handle of the machine to open it.
If there's a used capsule inside, take it out.
Disconnect your Nespresso from the power source.
Close the machine by lowering the handle.
Plug the Nespresso back into the power socket.
Push the power button. When the light turns on, keep pressing it until the light stays on without blinking.
Once the light is stable, let go of the button. Wait for about 35 seconds, then hit the button five times very quickly.
The light should blink slowly. After roughly 15 seconds, it should become stable. If this happens, your Nespresso is reset.
It's important to note that you might need to go through these steps more than once to get it right.
Make sure to follow the timing instructions carefully, particularly the waiting period and the quick button presses.
The Coffee Dispenser Disk In The Lid Is Stuck
Getting the disk in the lid unstuck is also how you fix the orange light blinking twice on your Nespresso, but I've read that it sometimes also fixes the blue light. It's always worth giving it a try at least.
Two parts in your Nespresso machine need to be able to move easily. One is the holder for the coffee capsules, which should spin and move up and down. The other is the disk in the handle that pokes holes in the coffee capsules, allowing water to come into the capsule. This disk should be able to spin without issue.
If you've used your machine a lot, this disk might get stuck or become hard to move due to leftover coffee or limescale. This can cause the orange light to blink twice error.
Here's how to solve this:
First, make sure your machine is turned off and unplugged. Then, open the handle of the machine. Use a small brush to apply some vinegar to the disk. Leave the vinegar on for a few minutes, then rinse it off with water.
You might find it easier to get to the disk if you take off the water tanks and lay the machine on its side. Once you've done all this, the disk should be able to spin without issue.
Fixing a stuck disk can also solve the problem of clicking noise.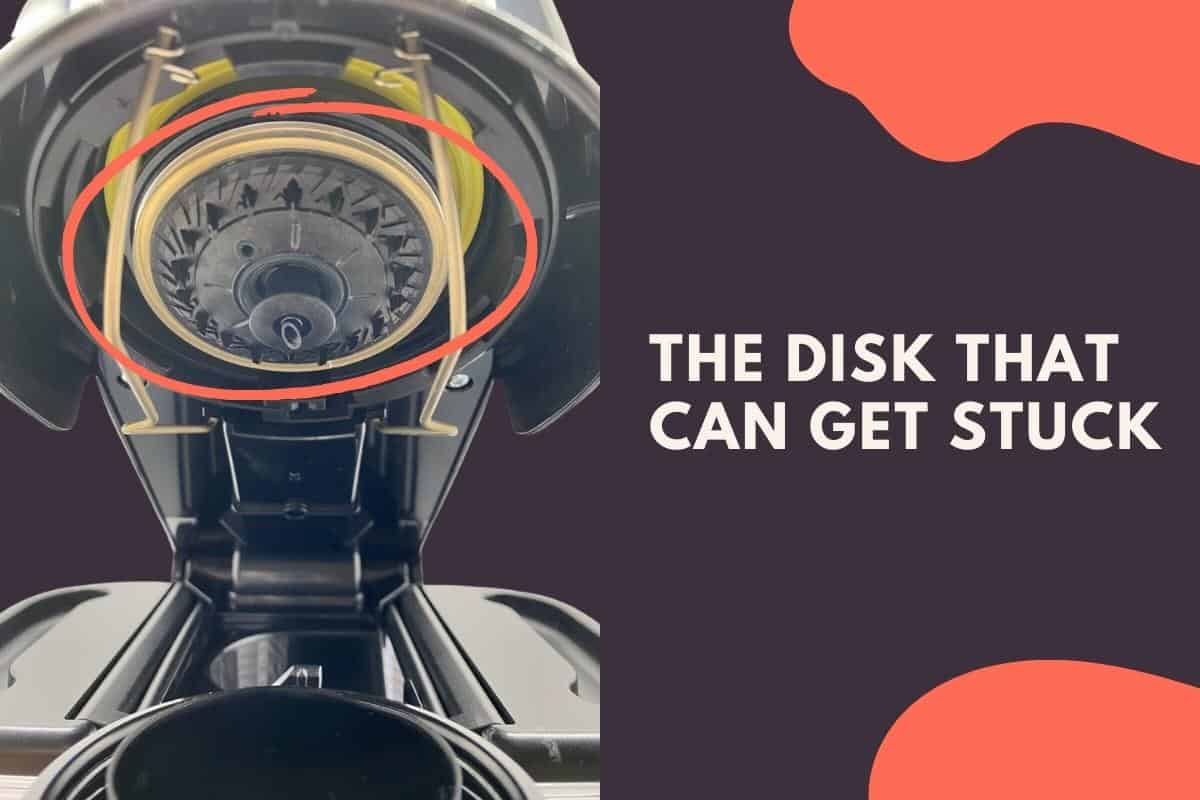 Conclusion
In summary, don't let the blue light on your Nespresso Vertuo Next or Pop leave you puzzled or worried.
Whether it's accidental activation of the 'Concentrated Extraction' mode or a more persistent issue that requires attention, there are always solutions at hand.
By contacting customer support, performing a reset, or fixing a stuck coffee dispenser disk, you can keep your Nespresso machine working optimally. Enjoy your perfect cup, every time.
Thanks for reading!